Our Company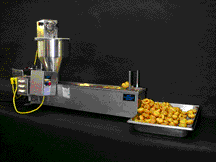 Jaroslav Schubert has opened the Czech Republic for Lil' Orbits. Jaroslav aka "Jarek" was a communications engineer when he came across Lil' Orbits and Orbie's web sites. He decided to switch careers and build his own business.
Jarek now has 6 active locations and even a big billboard advertising his downtown location.
We met Jarek at the recent NRA show and he was most inspired by Gaby, our distributor in Puerto Rico who has 37 locations in the Wall Mart stores and Sam's Clubs and employs 180 people.
"I plan to do the same in my country", Jarek vowed.
From article on the origin page: http://www.lilorbits.com]
---
13.04.2008 - 15:08